TikTok has quickly become one of the most famous social media platforms, with users spending an average of 93 minutes daily on the app. With its popularity, many users are curious about how to download TikTok videos without posting.
This blog post will explore 5 easy and simple ways to download videos on TikTok without posting them:
Download Private TikTok Videos
Save TikTok Draft Video to Gallery
Using a Third Party App
Screen Recording
Using Online Tools
1. Download Private TikTok Videos
Downloading TikTok videos without posting offers the ability to enjoy offline viewing. TikTok users can watch their favorite content anytime, anywhere, without an internet connection. This first solution is beneficial when traveling or in areas with limited connectivity.
Additionally, it allows for easy sharing with friends and family outside of the TikTok platform. Users can effortlessly send videos via messaging apps or social media platforms, expanding the reach of entertaining and inspiring content. The following steps will guide you through downloading a TikTok video without posting it publicly:
Open the TikTok app and click on the "+" button at the bottom center of the screen.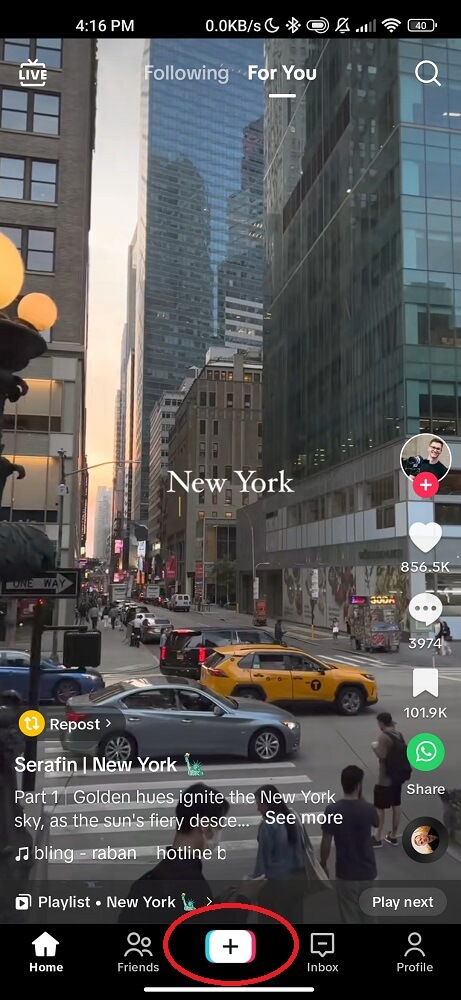 Record or upload the video you want to download.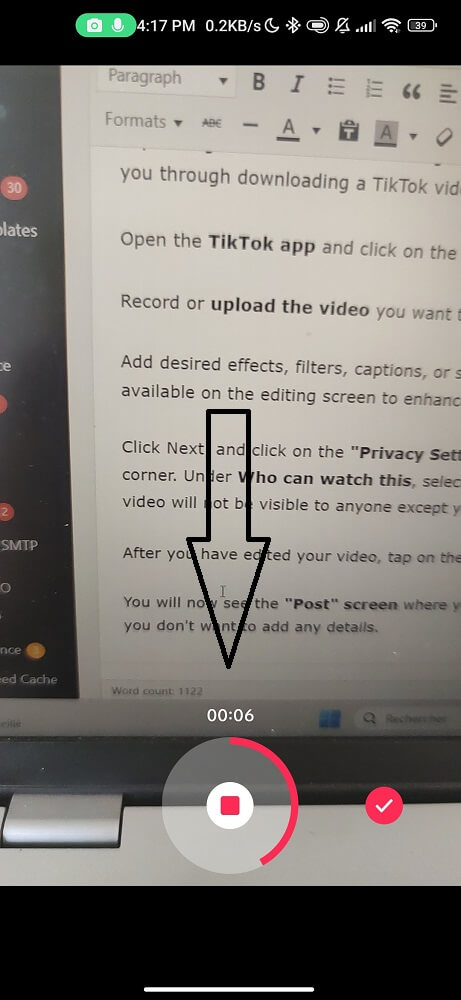 Add desired effects, filters, captions, or sounds to your video. You can use the tools available on the editing screen to enhance your video.
Click Next, and tap on the "Privacy Settings" button at the camera screen's bottom left corner. Under Who can watch this, select Only You. This option will ensure that your video will not be visible to anyone except you.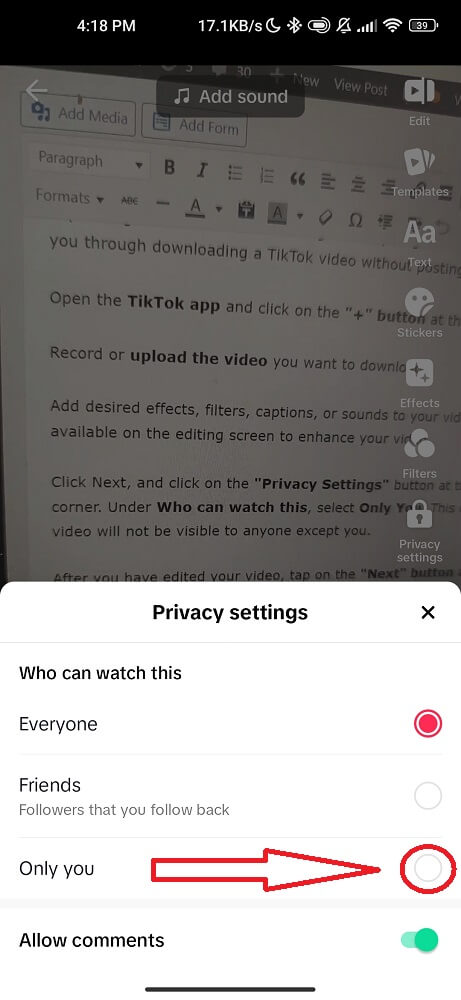 After you have edited your video, tap on the "Next" button again.
You will now see the "Post" screen where you can add a caption. You can skip this step if you don't want to add any details.
Click on the "Post" button. Your video will be uploaded to your account, but since it is private, no one except you can view it.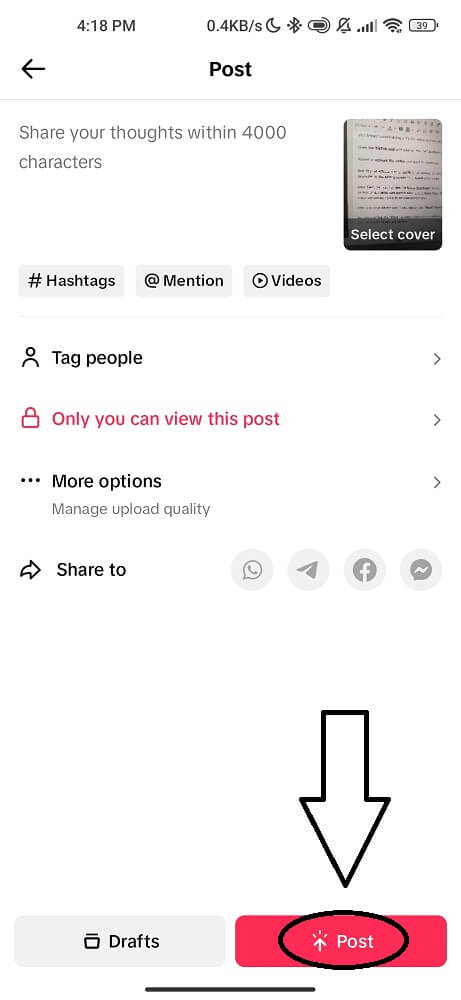 Tap on the video you want to download. you will see a share button represented by an arrow pointing right.
Click on the sharing options, and tap on the "Save Video" option.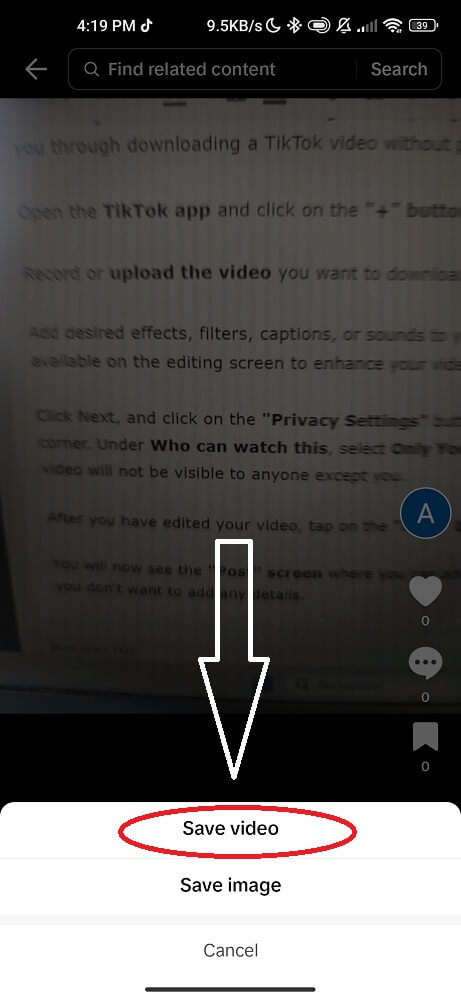 2. Save TikTok Draft Video to Gallery
Open the TikTok app and select your profile.
Tap the "Drafts" button and Click on the video you want to download.
Tap on the "Next" button.
Choose More option.
Toggle on Save to this Device.

TikTok will process and save your draft video to your device's gallery or camera roll.
Please note that the availability of the "Save" button may vary based on the TikTok version you are using. If you cannot find the "Save" button, you can update TikTok to the latest version from your device's app store.
Following these methods mentioned above, you can easily save your TikTok draft videos directly into your device's gallery without posting them publicly on social media!
3. Using a Third Party App
A variety of apps available will allow you to download TikTok videos. Some of these applications are free, while others require a paid subscription. These apps usually allow you to input the video URL or share a link from TikTok and then download it directly onto your device.
One popular option is the "Video Downloader for TikTok" app, available on iOS and Android devices. This app allows you to easily save any TikTok video to your phone's gallery with just a few taps. Copy the video link from TikTok, paste it into the app, and voila – the video will be saved onto your device!
Another handy tool is "TikMate – Video Downloader for Tiktok." This app lets you download videos from TikTok without a watermark and gives you options to choose different resolutions and formats before downloading. Its user-friendly interface makes it easy for anyone to navigate and save their favorite TikToks quickly.
When using third-party apps, always exercise caution and ensure they come from reputable sources. Additionally, remember that these apps may have limitations or restrictions based on copyright laws or platform policies.
4. Screen Recording
Screen recording is another method to download TikTok videos without actually posting them on the platform. This technique lets you capture the video as it plays on your screen and save it for offline viewing or sharing with others.
You can use the built-in screen recording feature on your smartphone or tablet to screen record a TikTok video.
Open the TikTok app.

Find the video you want to download.

Start recording.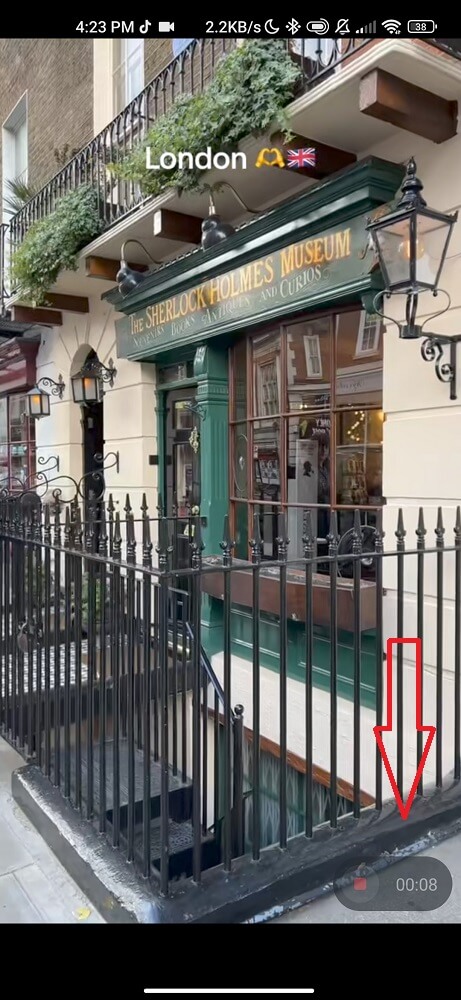 Be sure to adjust your device settings so that the audio is also captured during the recording.
Once you have finished recording, you can trim or edit the video using various editing apps available on iOS and Android devices. Then, save it to your gallery or share it via other platforms such as social media or messaging apps.
It's important to note that while screen recording allows you to download private TikTok videos and those not yet posted publicly, it may infringe upon copyright laws if misused. Therefore, always respect content creators' rights and only use this method for personal use or with their permission.
5. Using Online Tools
Several websites and applications allow you to save TikTok videos onto your device easily. One popular online tool is SSSTik.io which lets you enter the video's URL and download it with just a few clicks. This tool supports both private and public TikTok videos, making it versatile for all types of content.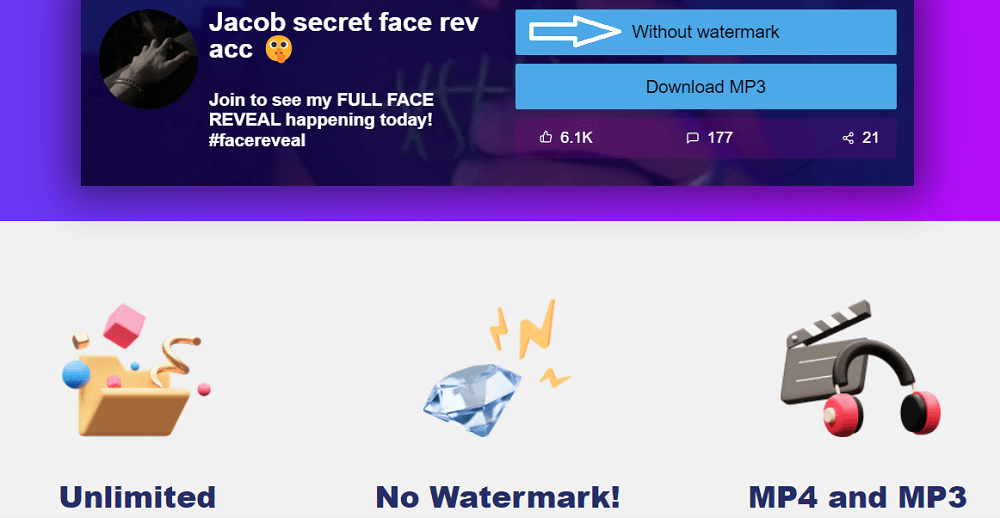 Another option is "SaveFrom," an online free downloader video website that works for other social media platforms like Facebook, Instagram, and YouTube. Paste the video link into the provided space on their website, choose your desired quality, and hit the download button.
"QDownloader" is yet another free online tool that enables you to save TikTok videos effortlessly. According to the previous section, Copy the link from TikTok and paste it into QDownloader's search bar. From there, select your preferred format (MP4 or MP3) and click on "Download."
With these handy online tools, downloading TikTok videos without posting them has never been easier! Whether you want to save funny clips or memorable moments shared by others, these tools provide a hassle-free solution for capturing those precious memories offline.
Conclusion
Downloading TikTok videos without posting is possible with these five methods. Whether you want to save private TikTok videos, download your drafts to your gallery, or use third-party apps, screen recording, or online tools, there are options available for every user.
Remember to respect the privacy and copyright of others when downloading content. So go ahead and start saving those entertaining TikTok videos that you love without having to share them publicly!