In this digital age, where convenience is key, numerous best file sharing apps are available for Android devices that can simplify your life in a snap. From cloud storage solutions to lightning-fast transfers, these must-have apps will revolutionize how you share files.
So, if you're ready to simplify your digital life and bid farewell to those frustrating moments of failed transfers and endless compatibility issues. It's time to dive into our list of the top 10 file-sharing apps for Android:
Google Drive
Send Anywhere
AirDroid
Xender
SHAREit
Smart Transfer
File Sharing
Zapya
ShareMe
Dropbox
1. Google Drive
Google Drive is a secure online storage and file sharing app similar to Dropbox. Its seamless integration with other Google services offers a comprehensive and convenient way to store and share files. Whether you're looking to collaborate on documents, store photos and videos, or keep your important files backed up, Google Drive is the first choice.
Google Drive offers a generous storage space of 15GB for free, so you can keep all your necessary files without worrying about running out of space. And if you need more storage, Google offers affordable upgrade options.
Another advantage of using Google Drive is the accessibility across different devices. You can access your files from an Android, tablet, or PC. You only need an internet connection or a handy mobile app.
Collaboration is made easy with built-in sharing capabilities. You can invite others to view, edit, or comment on your files in real-time. Perfect for team projects or remote working.
In addition to file sharing and collaboration features, Google Drive offers powerful search functionality that helps you find what you are looking for quickly.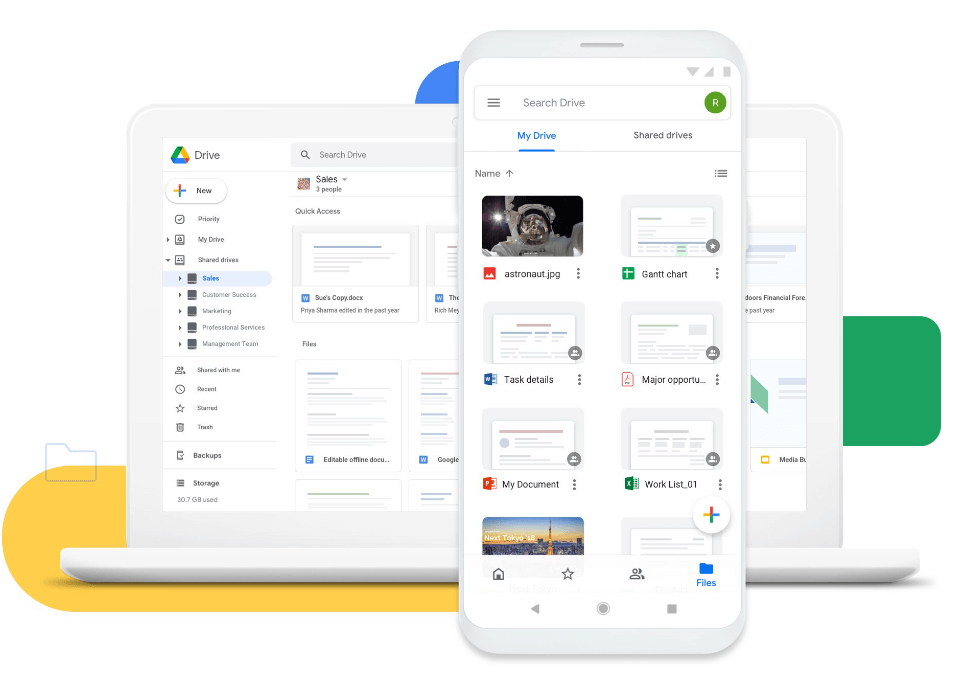 5 Key Features of Google Drive:
Google Docs Integration: Create, edit, and collaborate on documents, spreadsheets, and presentations within Google Drive.
File Organization: Organize files into folders for easy management and navigation.
Advanced Search: Quickly find files and content using powerful search capabilities.
Offline Access: Access and edit files even without an internet connection.
Third-Party App Integration: Extend functionality by integrating Google Drive with various third-party apps.
2. Send Anywhere (File Transfer)
Send Anywhere is a versatile file transfer app that lets you quickly and securely share files between all devices. File transfer app allow users to share files across different platforms, including Android, iOS, Windows, Mac, and Linux. You can easily share files with friends or colleagues using different operating systems.
Another great part of Send Anywhere is the offline mode. If you don't have access to an internet connection, you can still transfer files by generating a unique QR code or entering a key provided by the app. This makes it perfect for situations where Wi-Fi or cellular data is unavailable.
With Send Anywhere, there are no file size limits or restrictions. This app can handle it all, whether you want to send large videos or multiple images simultaneously. Your files are encrypted during transmission for added security.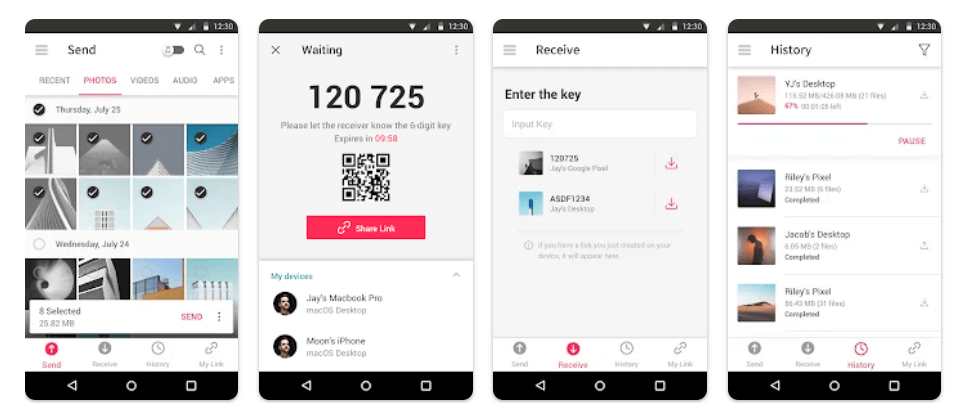 To use Send Anywhere for file sharing, follow these simple steps:
Go to the Google Play store.
Download and install "Send Anywhere" on the sending and receiving devices.
Open the Send Anywhere app on both devices.
Select the files that you want to send.
Send Anywhere offers several options for file transfer. You can either use a unique six-digit key or generate a QR code.
On the receiving phone, enter the six-digit key provided by the sending device.
Once the connection is established, the app will start transferring the selected files from the sending to the receiving device.
Both the sender and receiver will receive a notification confirming the successful transfer.
3. AirDroid
AirDroid is the most popular file-sharing and app management that facilitates the easy movement of data between an Android device and a computer. It boasts many valuable qualities that make the exchange of information simple and quick, such as the capability to transfer files from the root directory of an sd card to another one. Moreover, users can access AirDroid from any web browser, making it highly flexible.
AirDroid provides a user-friendly interface for simple navigation and operation. The wireless file transfer option ensures convenience when transferring between devices and provides secure data transfers through encrypted connections to protect your files. Remotely controlling your Android with the app is another advantage, allowing you to manage it from any distance.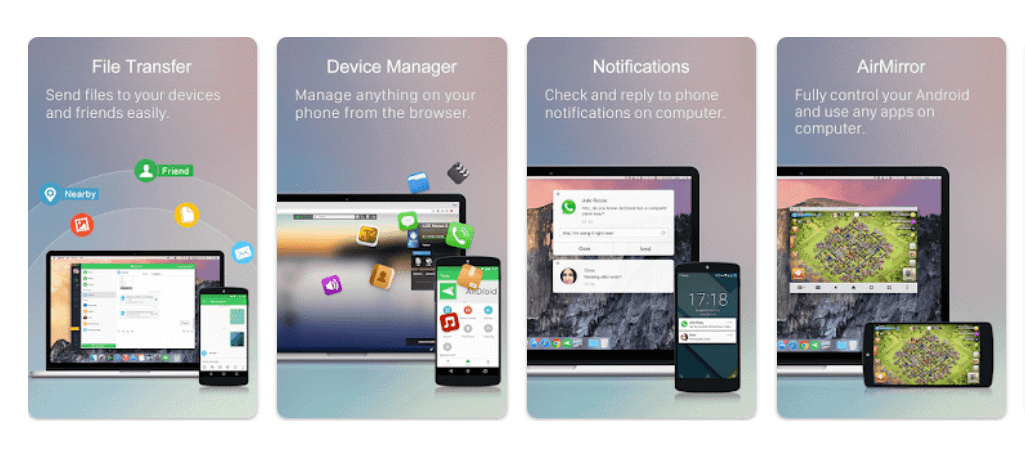 6 Key Features of AirDroid
Remote File Access: Access and manage files on your Android device remotely from a computer or other devices.
Screen Mirroring: Mirror your Android screen to a computer for easy viewing and control.
Messaging and Notification Management: Send and receive SMS messages and manage notifications from your pc.
Call Management: Make and answer calls directly from your computer using your Android device.
Find My Phone: Locate your lost Android phone, lock it, or wipe the data remotely.
App Management: Install, uninstall, and manage apps on your device from your computer.
4. Xender
Xender is one of the best file sharing apps available for Android users. With over 100 million downloads, it's clear that this app has struck a chord with people looking to simplify their digital lives.
The lightning-fast transfer speeds of Xender make it the perfect choice for sending photos, videos, and documents. No more waiting for hours as your files slowly go from one device to another.
Another great thing about Xender is its cross-platform compatibility. It allows you to share files between Android and iOS seamlessly. This means that whether you're an iPhone or an Android user, you can easily send and receive files with just a few taps on your screen.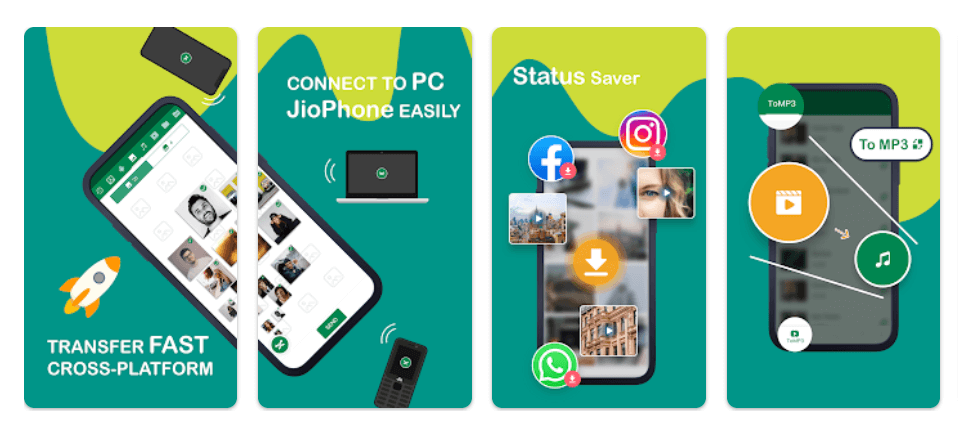 7 Key Features of Xender:
API Integration: Xender provides an API that allows developers to integrate the functionality into other applications.
Access Controls: Users have the ability to set access controls on shared files.
Archiving & Retention: Allows users to archive and retain shared files which enable easy retrieval and management of important documents.
Activity Tracking: Xender's activity tracking feature allows users to keep track of who has accessed and downloaded their shared files.
Activity Dashboard: The activity dashboard in Xender provides users with an overview of all their file-sharing activities, making it easy to monitor and manage shared files.
Bulk File Transfer: Xender allows users to transfer multiple files at the same time.
Cross-platform Compatibility: Xender supports file sharing between different platforms ensuring collaboration across devices.
5. SHAREit
SHAREit is a free file-sharing app that allows users to send and receive photos, videos, music, documents, and other files across multiple devices without an internet connection. It creates a direct Wi-Fi hotspot between phones, eliminating the need for data charges or cables.
Also, the app has additional features, such as chat options where users can send messages while transferring files and share contacts with friends using Bluetooth technology. Another great thing about the application is that it supports most operating systems, so there's no need to worry about compatibility issues when sending files from one device to another.
Regarding security, SHAREit uses advanced encryption technology to secure Wi-Fi network transfers. This ensures that your private information remains confidential during transmission, even if someone else gets access to your network connection while using the app.
On top of this added layer of protection, all transferred content is stored on both devices until they are manually deleted from each device separately, eliminating potential risks associated with long-term storage on either device's internal memory or external.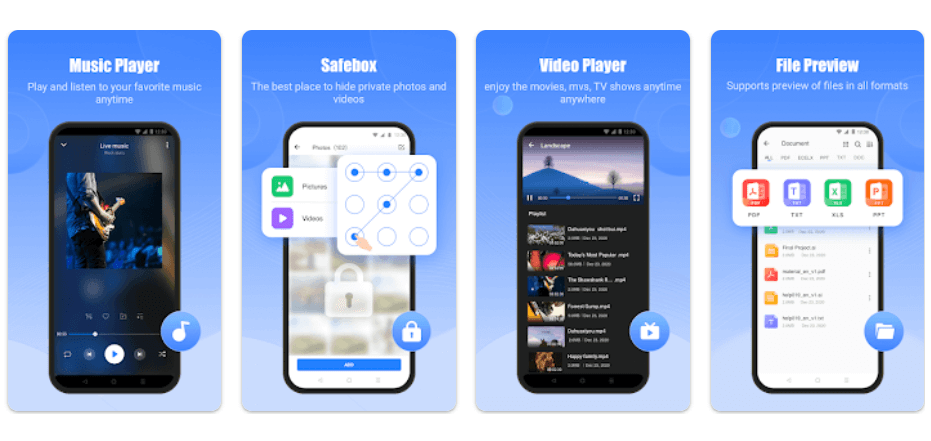 5 key characteristics of using SHAREit:
Fast Transfer: SHAREit allows users to transfer files at fast speeds without the need for an internet connection.
Multi-Format Support: Users can share files in various formats such as photos in JPG, PNG, GIF, videos in MP4, AVI, or WMV, and documents in PDF, DOCX, or PPT.
Secure Wireless Connection: A secure wireless connection ensures that files are transferred safely and privately that allows users to protect data from unauthorized access.
Remote Device Control: SHAREit enables users to remotely control a PC or Mac using their mobile device. Providing convenience and accessibility for managing files and applications.
Integrated Media Player: SHAREit comes with a built-in media player that supports a wide range of file formats.
6. Smart Transfer
Smart Transfer is a technology that enables data transfer between phone devices. The app offers advanced algorithms like Xender and SHAREit to facilitate sharing of files, photos, videos, and more across various platforms.
The app allows people to transfer large files 150 times faster than Bluetooth, saving users valuable time. Furthermore, this app boasts many impressive features to enhance the user experience. For instance, it supports cross-platform transfers, allowing users to effortlessly share content between operating systems such as iOS and Android.
Additionally, Smart Transfer offers bi-directional transfers, ensuring that data are easily sent and received. Moreover, this intelligent software provides an option for selective transfers, users can choose specific files or folders they want to send instead of transferring everything simultaneously. Another notable feature is its robust encryption system, ensuring that transferred data remains private and protected from unauthorized access.

Follow these simple steps to start sharing files using smart transfer:
Install the App
Open the App
Select Sender or Receiver
Connect Devices
Choose Files
Start the Transfer
Monitor the Progress
Complete the Transfer
7. File Sharing – InShare
InShare comes forward as an exceptional solution that caters specifically to the needs of Indian users. The file-sharing ensures a seamless experience for everyone. But what sets InShare apart from other sharing apps?
Firstly, InShare prioritizes your privacy and security above all else. It employs advanced encryption technology that guarantees your files are protected during transit. You can share sensitive information without any worries or compromise on confidentiality.
Secondly, convenience is at the core of InShare's design philosophy. The interface allows you to navigate through different features effortlessly. Whether it's transferring files between devices or managing shared content effectively. Gone are the days of complicated procedures; now you can share files hassle-free.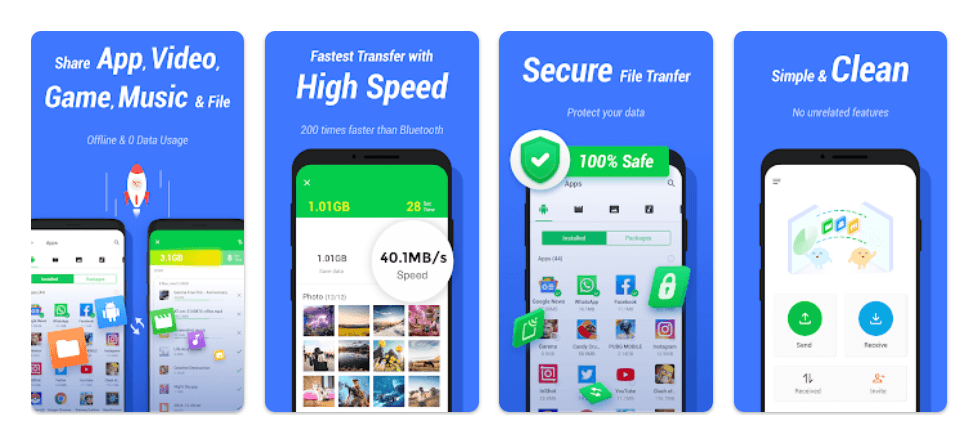 Pros of using File Sharing:
Convenience
Speed
Cross-platform compatibility
User-friendly interface
No internet connection required
Security
Cons of using File Sharing:
Limited file size
Dependence on the recipient's device
Privacy concerns
Reliance on Internet connectivity
Lack of collaboration features
Storage limitations
8. Zapya
The popular Zapya peer-to-peer file sharing app has been downloaded over 100 million times and has 1 million reviews on Google Play. The transfer speeds are also super fast. Whether transferring large files or just a few photos. This can be especially useful when quickly sharing important documents with colleagues or friends.
Like other file transfer apps discussed above, you can share files between Android devices, iOS devices, Windows PCs, and Macs without hassle. This makes it incredibly convenient if you have multiple devices and want to share files between them easily.
Additionally, Zapya offers a group-sharing feature that allows you to connect with nearby devices and create your own network for file transfers. This feature can be handy during meetings or events where multiple people need access to the same files.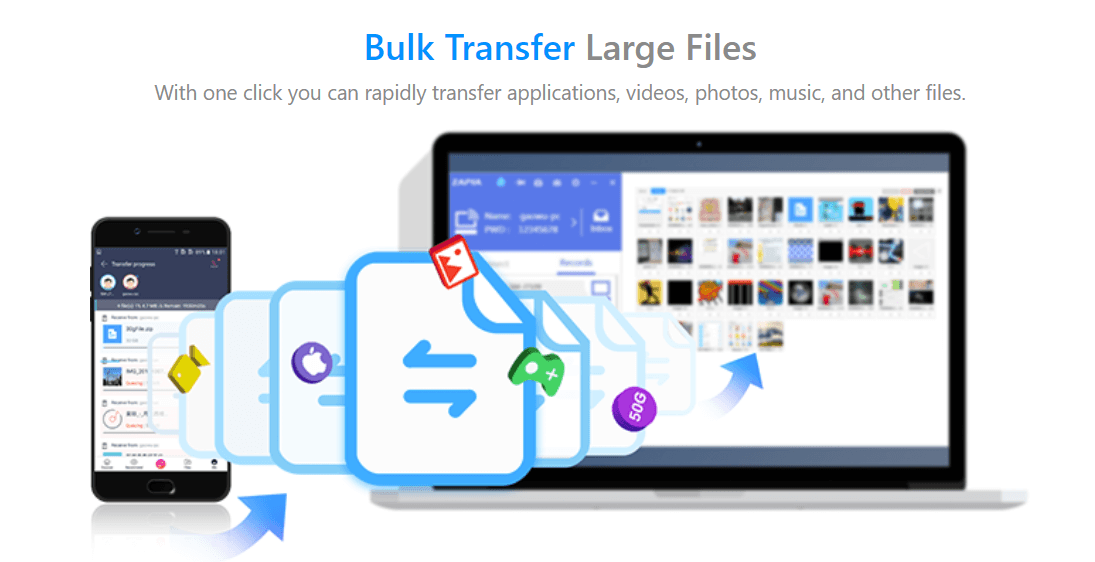 The 7 Best Zapya Features:
Cross-Platform Support
Lightning-fast Transfer Speed
Group Sharing
Offline File Sharing
QR Code Sharing
File Manager
Smart Replication
9. ShareMe
Originally, ShareMe was designed to be safe, secure, and easy to use. Its user-friendly interface and super-fast 50 Mbps transfer simplify the process of sharing files between devices. Whether you want to send photos, videos, documents, or even apps, ShareMe is our second choice.
The app has super fast transfer speed, you can quickly share large files in seconds. No more waiting for hours while your files are sent. Also, you can easily send files from an Android device to iOS or vice versa. This option makes it perfect for transferring with friends or colleagues using different operating systems.
In addition to its excellent file transfer, ShareMe offers additional features that enhance the overall user experience. For example, you can use the app as a file manager to organize and view all your transferred files in one place.
ShareMe is a must-have file sharing app for anyone looking to simplify their digital life on Android devices. Its speed and ease of use make it an essential tool for effortless file sharing.

Here's a short instruction on how to use ShareMe:
Open the ShareMe app.
Grant the necessary permissions such as access to your photos, files, and contacts.
Locate the "Send" and "Receive" buttons.
Click on the "Send" option.
Browse and select the files you wish to share from your phone.
Tap on the "Send" button.
ShareMe will now create a hotspot on your device and generate a unique QR code.
Ask the recipient to open the ShareMe app and click on the "Receive" button.
In the recipient's app, they can scan the QR code displayed on your device.
The file transfer will begin, and the recipient will receive the files.
10. Dropbox
Dropbox is the last best file transfer app available for Android and iOS users. It offers secure storage for all your important documents and media files. Plus, you can easily share files with others by generating a unique link or inviting them to join a shared folder. This makes collaboration simple, eliminating the need for bulky attachments.
Furthermore, Dropbox lets you preview various file types without downloading them. This option saves time and bandwidth when dealing with large files or unfamiliar formats.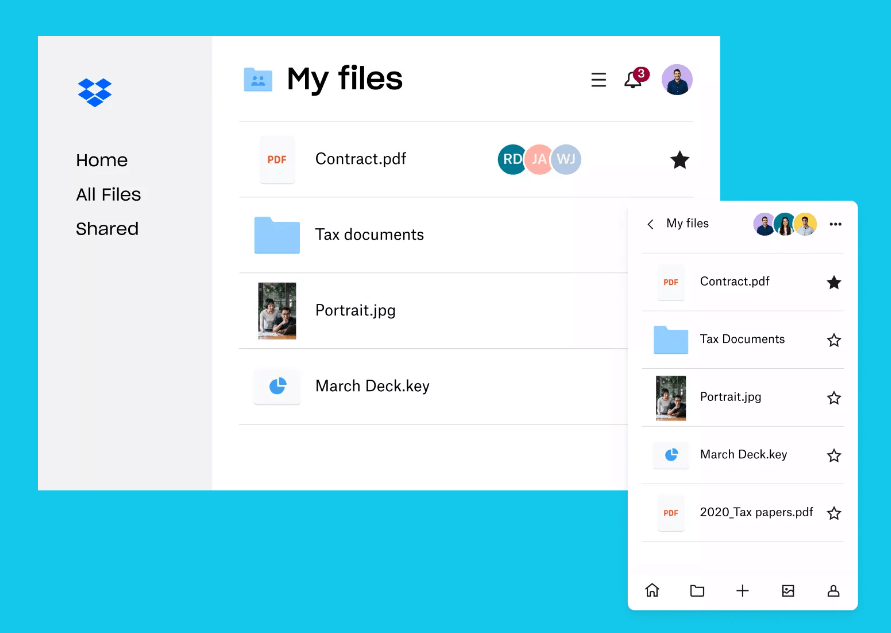 What are the Benefits of Using Dropbox?
Cloud Storage
File Synchronization
File Sharing and Collaboration
Version History and File Recovery
Integration with Third-Party Apps
Remember: When choosing the right file sharing app for Android, consider factors such as ease of use, security features, speed, and compatibility. Find what works best for you and enjoy hassle-free file transfers on your Android device.
Conclusion
File sharing has become essential to our lives. Whether you need to share documents for work or exchange photos with friends and family, having the right file transfer app can simplify the process and make your life easier. Utilizing these 10 must-have file sharing apps for Android allows you to easily share files of any size without worrying about compatibility issues or slow transfer speeds. 
So go ahead and explore these amazing apps! Simplify your digital life by downloading one or more of these file-transferring apps today. You'll wonder how you ever managed without them!
Happy Sharing!