You might be thinking to yourself, "Does free home health aide training exist?" Yes, it does. It might sound too good to be true but we promise it is out there and available to you.
Becoming a home health aide is a great way to start your new career in the health care world without having to spend a lot of time and money.
Home health aide training at a college or vocational school can cost you quite a bit of money, typically ranging between $100-$1000.
You may not have the financial resources available to pay out of pocket, you may not be eligible to receive financial aid, or you may not want to take out a school loan to receive your home health aide training.
We're pretty sure no one likes to be in debt anyway, right? We can help you with that.
Below we have provided you with a short guide on how to get free home health aide training.
Step 1: Contact a Home Health Aide Agency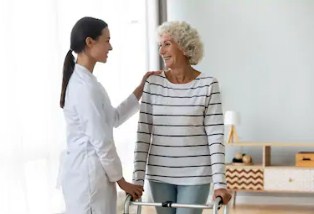 The best chance for you to find free home health aide training is to contact a local home health aide agency in your area.
Many home health aide agencies will advertise that they offer free HHA training.
When contacting the agency make sure you are direct and specifically ask if they offer a free home health aide training program and ask what the requirements are to start their HHA training program.
Possible eligibility requirements:
Must be 18 years of age or older.
May be required to pass an entrance exam.
May require a high school diploma or GED.
Must provide a photo ID and Social Security Card.
May require a small non-refundable fee for books and supplies.
May require a drug-screening test.
Must complete a background check.
Must complete a physical exam. (may need to lift to 50lbs)
Must be able to read and write English.
Must be eligible to work in the United States (must have a green card if not a U.S. citizen)
The home health aide agency that provides this HHA training for you will give you a complete list of eligibility requirements before you start.
These agencies will often require you to make a commitment and work for them for a certain period that they specify after you receive your free home health aide training. When applying for their program, make sure to ask them about that part of the deal.
Check Other Local Resources
Make sure you also check your other local resources for free HHA training such as:
Local hospitals.
Your local American Red Cross.
Your local community resources centres.
Local visiting nurse services.
Local hospice programs.
Step 2: Contact Your Local and Regional Department of Labor Services
If you are unlucky finding free HHA training with a local home health aide agency, another great way to find free home health aide training is by contacting your local and regional Department of Labor programs or services.
They should have information about free HHA training if any is available in your state.
Some states will offer free HHA training with no obligation for you to work for your state.
Step 3: Be Aware of Free Home Health Aide Training Online
When searching for free home health aide training online you will come across many websites that say they offer free training or training for a small fee.
Be aware that some of these websites are scams. These are not legitimate programs and are trying to sell you a meaningless home health aide certification or diploma.
With the rise of online education websites, there's also unfortunately been a rise in these "diploma mill" websites making themselves look like legit home health aide training programs.
How will you know if the program or website is a scam or not? Good question.
Always do your research and check the program or website and make sure it has the proper credentials.
5 Tips to Help You Avoid These Online Scams
1. Visit the website.
Does it look sketchy? A good training program should have plenty of information about their course and curriculum. Read their mission statement and vision and determine if they will help you meet your goals.
2. Research the program.
Is the program accredited? Any reputable program online or online education website will discuss its credentials, including the agency that they are accredited by and when it was accredited. If you cannot find this information, that should raise a red flag.
To make sure they are accredited, check the U.S. Department of Education (USDE)'s database of accredited institutions.
College Navigator is another excellent resource where you can research accreditation status by school, state, and programs.
3. Research the accreditation agency.
Are you sure the accredited agency is legitimate? Make sure that the agency is also real. Who knows if the website or program you are researching is lying to you.
You can check to see if the accredited agency is real by checking USDE's List of Nationally Recognized Accrediting Agencies or check CHEA's online database of recognized regional and specialized accrediting agencies.
4. Check the Better Business Bureau.
Still, having doubts? If you are still having doubts check with the BBB about the program's credibility.
5. Check for reviews.
Can you find online reviews? Do you know anyone who has completed the program? Check to see if there are any online reviews about your program. Make sure that the review is from honest real people and not just a promotional ad trying to sell you on the program.
Aside from browsing review websites, you will also want to check online forums that are related to home health aide training. These forums will be filled with people that can help point you in the right direction.
Lastly, ask your friends, family, and other people that you trust, if they have taken any HHA training online programs. Chances are if they have, they will be able to recommend a great online program for you.
No matter where you receive free HHA training, make sure that the curriculum offered is approved by your state.
We hope that this guide has given you a better understanding of how to get free home health aide training. Good luck!